Role // Co-founder, "do it all" role
Timeline // October 2013 – February 2019
Type // Startup incubated at Jurema

A social platform focused on co-living solutions, starting by helping people easily find roommates and places to live. From personal preferences and social connections collected during onboarding, our algorithms recommended people and places most relevant to our user's interests and lifestyle.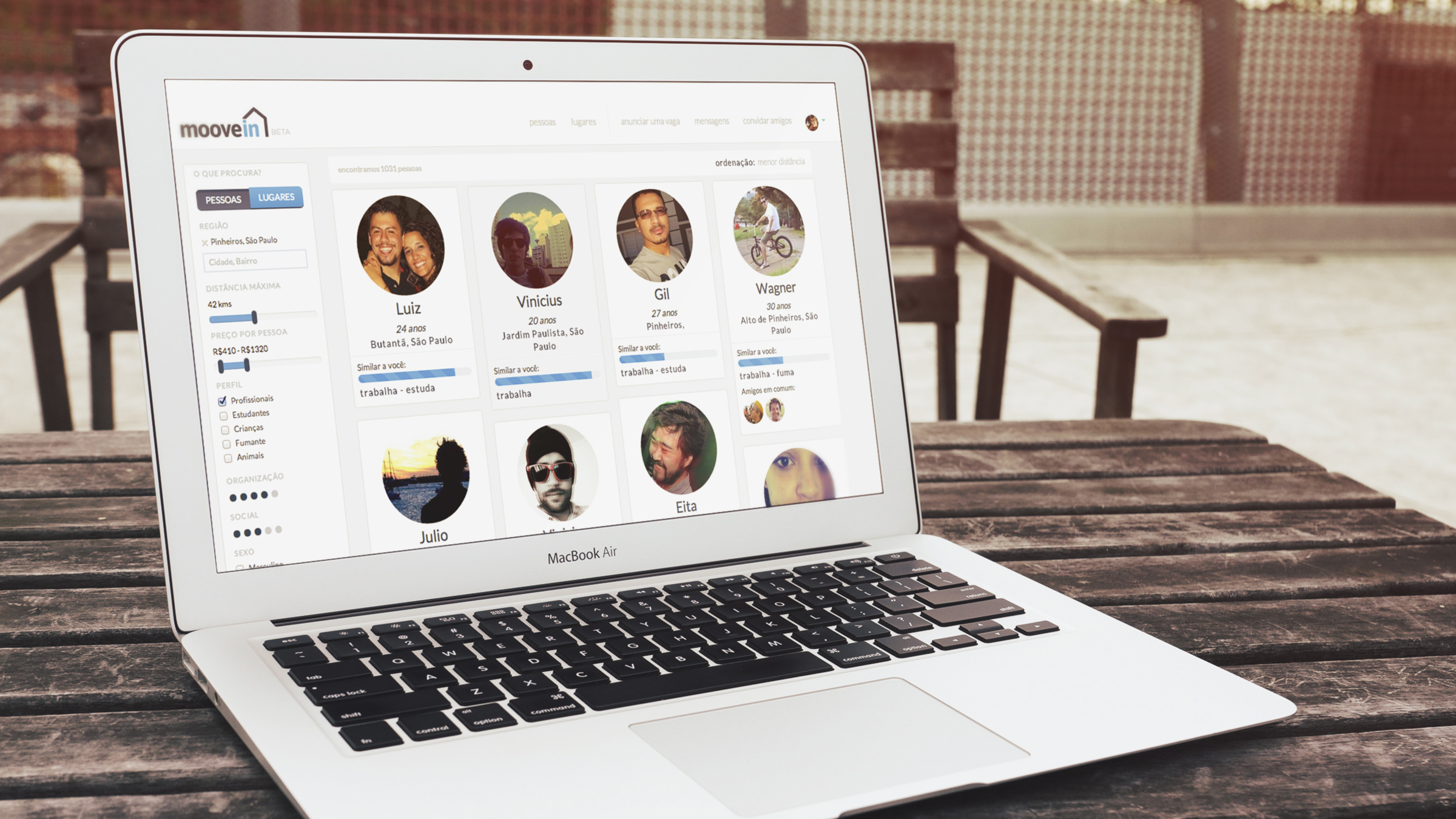 It all started with a personal need
The idea started way back, inspired by personal experiences summed with those from friends and colleagues: living in big cities can be unaffordable for many people. In addition to that, finding people and places to share often involves a complex searching process, since it's not just about finding someone to live with or a place to crash, but finding a person that matches your interests and lifestyle. My main motivation was to simplify this process by matching people with similar interests, to promote a connection between strangers.

"Why is it so important to work on a problem you have? Among other things, it ensures the problem really exists." – Paul Graham

But before we built something
To validate both idea and market opportunity, we started with a qualitative survey using Typeform (high-five to their user experience and interface design, btw). I posted it in some "help me share a living" groups on Facebook - there were many at the time - and in a week spam we were able to gather around 250 replies. That was super valuable to help identify product opportunities and support the idea of what could be a solution.
Following this phase, I built a simple landing page just enough to give the main idea of the startup and invite people to leave their email. Along with a week Adwords campaign, we got around 40% conversion rate on email subscriptions. Fair enough, time to build our product!

Lean Startup
After many startup processes we've tested inside Jurema, the Lean Startup is one that really works when you have a team of developers that are product-driven and when you need to test your idea + iterate fast.




By building a community of people interested in finding and offering places to rent, we focus on creating empathy between home-sharing seekers by solving a real problem we've identified. The feedback we got was very positive and with lots of ideas for our product roadmap.

Some results we're able to achieve:
+ Avg. 90.000 registered users
+ Over 10.000 listed places
+ Over 3.5 million page views and close to 250.000 visitors
+ Avg. 12 new users daily (with no marketing investment and a great SEO)
+ Over 30.000 messages exchanged between users
+ Great deal of press mentions with not much PR effort




People all over Brazil started using it, but there's still a long way to go, especially when it comes to our business model. To the future, we aim to approach this same target with complementary solutions for rent sharing, by helping in the living phase.

What I learned
There's no need to get bureaucratic when you are launching a startup. The most important thing is to validate ideas fast. Plus, even back then there were so many tools that enabled people with no expertise in graphic design and coding (such as myself) that was easy to just DIY and learn from that. Typeform, UserVoice, Google Adwords / Trends / Analytics, LaunchRock, and Unbounce are just some examples from the ones I applied at Moove In.