Role // Project manager
Timeline // August 2014 – January 2018
Type // Startup project; software design and development by Jurema

soürun is a digital training service for runners. Through mobile apps users receive weekly trainings from real coaches based in their running experience and personal goals. This is an unique value proposition in a market mainly occupied by "training packages", where users sign up for one of those but based in their own judgment and knowledge, with no interactive follow-up from the coach.

Download for iPhone
Download for Android
See the website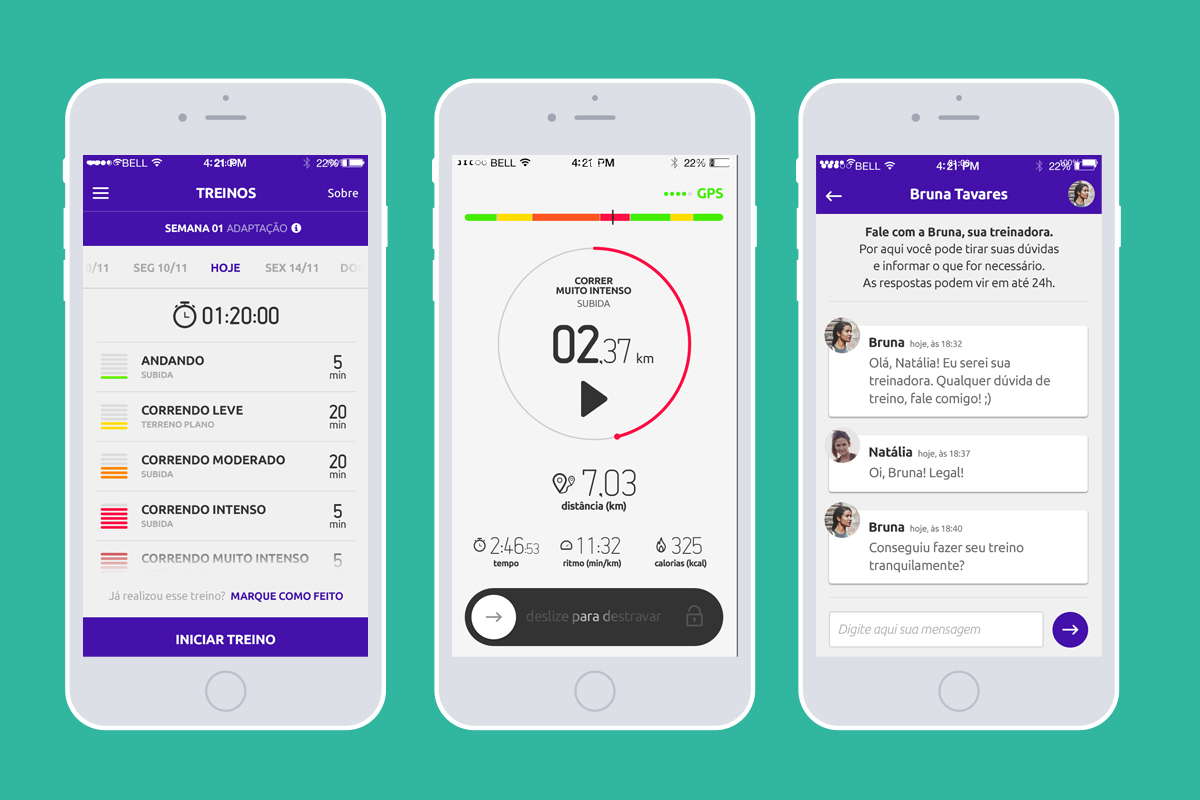 Launched in February 2015, the startup was founded by Mario Sergio Silva, an experienced runner and trainer well-known for his running consultancy in major brazilian cities. In partnership with Jurema I have been working with this amazing collective of teams to help create, develop, launch and market this new, more accessible training program though online devices and personalized trainings.

The challenge
There are many well-known apps dedicated for runners nowadays. Strava, RunKeeper, Nike+ Running, Runtastic, and Endomondo are just a few to name it. Nevertheless, most of those apps are focused on tracking the running race and offering training packages that users can sign up for.

The solution
One of the greatest things of working with budget, time and team constraints is that you need to get a lot more effective and productive. We basically had three months to create, develop and launch an MPV for two mobile devices, iPhone and Android (which were chosen for the following reason).

To get to the solution, we could not afford using a waterfall approach, so we did Google Ventures' Design Sprint (interesting enough, that was one of the many references on new methodologies, processes and ideas we exchange inside Jurema, using Slack). The Design Sprint is a five-day process for understanding, designing, prototyping and testing ideas with customers. You can read more about it here.




I was the facilitator in the Design Sprint process and helped coordinate and organize the space and to-dos we would get into. For our participants, we had our team of developers, our designer (who prepared the whole week dynamics and materials), our product manager and, from the founder's side, we had the marketing people, running coaches and the CEO. All of those people together where crucial to get a common direction on what we would build, the value proposition, which type of runners we would approach and so on.

In order to gather relevant data for the Design Sprint to achieve its goal, the team scoured the web and interviewed amateur and advanced runners. One characteristic that stood out was that most people (89% of answers) of around 500 participants had influenced someone to start running, which means the startup could have a strong social coefficient.

I was also responsible for recruiting the runners we would interview in the last day and for designing part of the prototype - which was a shared responsibility for different people to build part of the app, and for the digest and evaluation of the information we got in the interviews from the last day. I worked with all parties to not only make sure that we were aligned in terms of development, production, and design but also deliver a product that resonated with customers.

Iterate, iterate, iterate
Having out MVP launched I am now accountable for:
+ Conducting weekly sprint planning meetings with the team and product / business development with CEO, operations and marketing department.
+ Collaborate on guiding decision-making in a complex stakeholder environment by making sense of business objectives and user needs through continuous research and measuring outcomes.
+ Collaborating with developers and designers to build and release working products.
+ Writing roadmaps, user stories, and user flows.
+ Measuring overall impact that helps guide our roadmap decisions.

What I learned
I believe this is one of the projects I learned the most, but mostly because of all the learnings I had from previous experiences. They helped me make better decisions and adapt for a fast-paced project with a small team and resources. I am deeply excited by the opportunity of creating thoughtful and distinctive digital products that are able to have lasting impact.